My aunt from Chicago was on her way down to a wedding in Florida last week. She purposefully took a long layover in Atlanta to come see me! It was a beautiful day, so I decided to drive her around some of Atlanta's finer neighborhoods and then make a stop at the Botanical Garden. I figured it would be just beautiful at this time of year and I was correct-a-mundo. Here are some pics of what's in bloom. The ATL Botanical Garden is a spring day bargain at the $12 ticket price. Gorgeous white tulips, falling over one another:
Close Up:
Thought this was hydrangea, but it is actually viburnum.... the largest one I've ever seen at that!
I like this closeup and the colors of the leaves in the background.
Friendly freaky fellow in the Japanese Garden.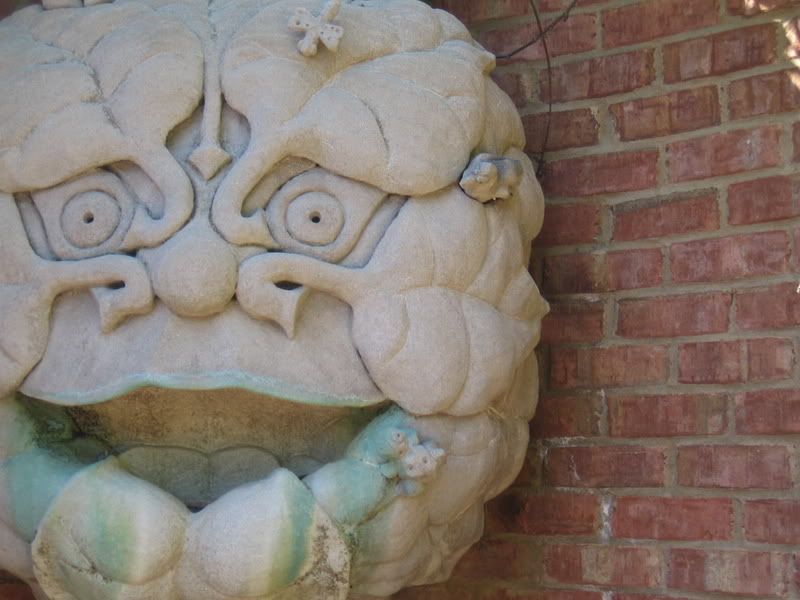 Fun modern reflective sculpture:
I love these, I think they look like paper. Obviously what I'm saying here is very important because it is underlined. (No really, Blogger is just being a PITA and I'm not too great with HTML.)
We ended our day by having a homey dinner at South City Kitchen. This is a fantastic place to bring out of town guests, especially if they're looking for a nibble of Southern food. It's not my favorite Southern in town, ::cough cough Mary Mac's cough cough:: but it certainly has a cozy atmosphere suitable for a classy dinner with visitors. I had the sauteed shrimp & scallops on cheese grits, and my Aunt had the trout with mashed potatoes and green beans. Both were delicious and comforting. I will also add that the service was top notch, some of the best I've had in awhile.